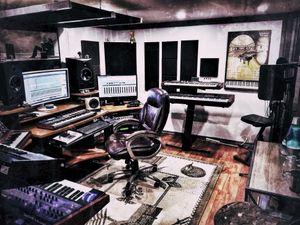 recording studio services
Have an original song you'd like to bring to life, or a cover version you've always wanted to record? 
It can be as simple as a vocal track and your instrument (Demo version), or I can provide most, if not all of the accompaniment you might need (Production version: keyboards, guitars, bass, drums, orchestral instruments, etc), to make your song complete. 
If you have tracks that you've recorded yourself, or somewhere else, and would like to have them mixed, I can take care of this for you as well.
Fees are by the hour, or by the song depending on how much work would be involved.
Drop me a line via the CONTACT page for more info.